Hadar from
Miss Kindergarten Love
Love and Kristin from
A Teeny Tiny Teacher
are cohosting a fun linky party.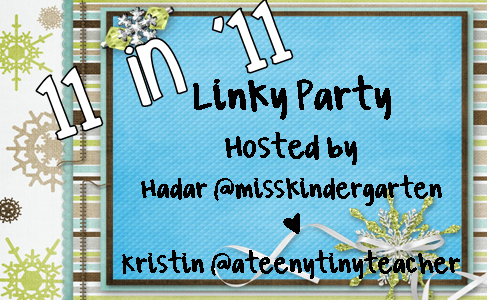 Let's just jump right into it....
11. Favorite movie you watched:
Harry Potter and the Deathly Hallows Part 2
(Note: Yes, my husband and I were the dorks that went to the midnight showing AND saw Part 1 and 2 back to back. LOVED it!)
Hmm, there are so many that I watch, but my recent favorite has been Once Upon a Time. It is a great series about fairy tale characters that are trapped in present day time but don't know it.
9. Favorite Restaurant
I would have to say:
There has not been one thing that I have been disappointed with on their menu, and I have tried A LOT!
8. Favorite thing you have tried
A favorite thing that I tried this year is
Daily 5
. Granted it isn't the true Daily 5 rotation but I did introduce all of the components and the kids love them as well as myself. It has been a great change up to our Language Arts routine.
7. Favorite gift you received
It was kind of a gift from myself and my husband.
Right before our 4 year anniversary, my wedding band broke. Yup, that's right...BROKE! It had cracks in it for a few months, but it finally gave way. As you can see, it broke in three places.
Needless to say, I was not a fan of that bad karma happening right before our anniversary.
It took a year or two to save up the money but now I am proudly displaying my new wedding band!
6. Favorite thing you pinned
Over the summer I found a fantastic art idea using melted crayons. I just HAD to make one of my own. Ta da!
My favorite blog post would have to be the 9/11 one. It is so important for me to remember everything that happened on that day so I can continue to keep the spirit of those poor victims alive in my heart.
If you are interested, you can visit that post
HERE
.
4. Favorite Accomplishment
Starting up this blog AND receiving my first blog award. :)
We took our children to get their pictures taken this past spring. As you might have assumed, the patience didn't last long and we were losing them quickly. In a moment of desperation we threw our own sunglasses on the kids. We then acted like fools behind the photographer and got this picture as a result.
Mr. and Ms. Cool
Phew! I feel for any child photographers out there.
That would be all of the memories I have of my wonderful Grandfather who passed away two weeks ago. I love you and miss you so much.
John Aliberti
August 3, 1924-December 11, 2011
My goal for 2012 is to work on being a better person, mother, wife, friend, and teacher. I made a bunch of goals to help me with this during a Teacher's Treasure's linky party. You can check out my personal and professional goals
HERE
.
So there you have it, my 11 in 11.
Bring it on 2012!