I'm joining
Swimming Into Second
for her: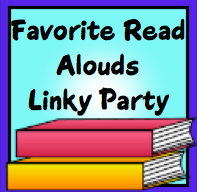 You had me at Read Alouds.
If you look on my sidebar, I have a virtual bookshelf full of my favorites.
Here is a list of my top ones.
This is a fantastic read aloud for the beginning of the year. It lays a great foundation for what good story tellers need. What is also nice is that each chapter lends itself into a writing lesson for the day. The kids LOVE hearing Gooney Bird's stories.
This is another fun story. I especially love Chester the skiddish cat.
We finished this just in time for Halloween. :)
This is my all time favorite read aloud. I have read this one every year since I first started teaching. It is such a great story and so much fun to read out loud to the children.
This is a newer favorite of mine. There are some parts that need a little explanation, which is why I wait to read this later in the year. However, the story and underlying message are just too good to pass up on.
Dogzilla, Kat Kong, and Dog Breath all by Dav Pilkey (Just all around fun read alouds)
Wonderful for giving struggling readers encouragement.
Great for introducing letter writing.
I hope you join in and share some of your favorites as well!